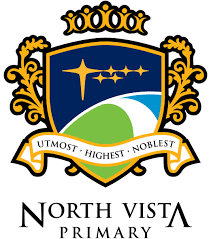 The School for the Future
Our school crest consists of a shield which frames the globe, our earth, with the horizon and the sky in the background. The green part of the globe signifies the pride we have for our land and our care for our environment. The blue emphasises our identity to be rooted in our country with a global outlook, always searching for new possibilities beyond our shores and the horizons of the future. We are the sons and daughters of a new generation, creating our own future. It also symbolises our organisation as the school of the future, boldly looking forward, creating new possibilities and opening new doors of opportunities for our students.
Grounded in Values
The white road signifies the responsibility of our school in guiding our students on the road leading towards the True North, symbolised by the huge golden North Star. The colour white symbolises purity and virtue. Our students are imbued with the values that will stand them in good stead for the future. The white road also gives our school our identity as it divides the globe into N and V, which is North Vista.
Holistic Development of our Students
The five golden stars next to the True North, represent the holistic development of our students in the cognitive aspect, the physical aspect, the moral aspect, the social aspect and the aesthetics aspect.
The Community of Learners
The crown on top of the shield symbolises our emphasis on being a community of learners where our people learn as one and each is responsible for his own learning and the learning of the community. Our people are our pride and they are the crown of our school.
The Laurels
The laurels, at both sides of the shield, symbolises the spirit of excellence that we possess in all our endeavours. We will always give our best and ensure that the best is given.
Our Banner
The banner that carries our call, "UTMOST, HIGHEST, NOBLEST" symbolises the virtues that we instill in our students – Utmost in Deeds, Highest in Love, Noblest in Aspirations.
Our Motto
The Laurels and the Banner together are the essence of our Motto:
Highest in Love,
Utmost in Deeds,
Noblest in Aspirations,
Excellence in Spirit.